[DJ Services]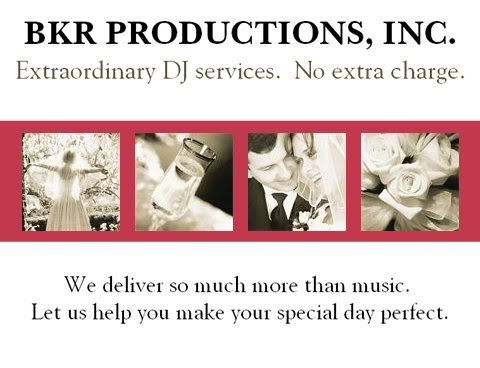 Welcome to BKR Productions, Inc. — for all your dj needs for small, medium or very extra large parties, all your music entertainments needs can be fulfilled. We provide lighting as well upon request for an additional fee. We have the latest technology available from simple music requirements to on the spot requests by using wifi technology and online music companies to get your requests played.
---
BKR Productions, Inc. provides a customized variety of music and personalities to meet your needs. Our versatility spans from presenting a conservative, formal-attired emcee, to an outgoing, nightclub-style disc jockey. Whether your party requires: Alternative, Big Band, Fifties, Sixties, 70's and 80's, 80's Rock, Top 40 Pop, Vocalists, Motown, Country, HouseTechno, Rap/HipHop, Rock Metal, Modern Rock, Old School Funk, Rock n' Roll, Reggae Dance Hall, R&B/Dance, RB/Funk/Disco, Jazz/New Age or Ethnic Music and more! DJ BKR provides it all! Simply tell us what you would like to hear, and we will make every effort to obtain your requests at no extra cost!!
---
PRIVATE PARTIES: We provide music and entertainment at BIRTHDAY PARTIES for ALL AGES! Small and large groups, indoors or outdoors, surprises, and house parties! Flashback with your class and all the songs from the past! DJ BKR provides all the hits for a fun reunion. We have DJs available for clubs, bars and private parties. DON'T WAIT TO PLAN A PARTY or CONFIRM A DJ! Call early for the best prices and to confirm availability!
---
WEDDINGS: With so much invested into one event, the entertainment has to be the very best possible. As experienced professional disc jockeys, we understand the importance of making the event a fun and memorable experience for everyone involved. We take pride in providing exceptional service, because this is your day!
---
SCHOOL EVENTS: We provide true DJ crews who have the skills, music, and experience to represent any school throughout the Bay Area! Keep it real without sacrificing professional sound and lighting reinforcement. BKR Productions is the complete mobile crew to host the next dance, formal, prom or graduation party!
---
For further information about bookings please contact me via email or call today!